Coming in 2018: 929 Pumehana Condominium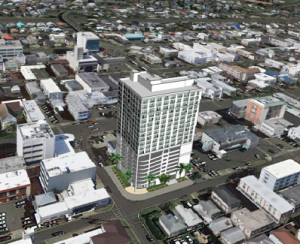 929 Pumehana in Honolulu, HI will be a 180 unit condominium in the McCully/Moili'ili neighborhood of Honolulu.  We will start selling units soon so please go to 929pumehana to register for updates!929 Pumehana is the perfect location for families or singles wishing to live in Honolulu with a short commute to Waikiki, Downtown Honolulu, schools, world class shopping, and a variety of outdoor sports both "mauka" (towards the mountain) and "makai" (towards the sea). 929 Pumehana will provide a variety of income levels with urban living in an attractive and affordable new construction condominium in a very walkable city center location!
Mixed-Income means that it will be offering condominiums to a variety of income levels. This mix will be made up of the following: of the 180 units, 108 units will be priced as affordable  for households earning 100%-120% of the Housing and Urban Development (HUD) Area Median Income (AMI).  (Specifically, 22 units will be priced in the 100% AMI range and 86 units will be priced in the 120% range.)  The rest will be offered at market rates.  Having these affordable units meets the DURF (Dwelling Unit Revolving Fund) requirements for additional funding.
Units: 180
Floor Plans: Studio, One- and Two-bedroom
Parking: 206 Stalls (residential and guest)
Stories: 21
Land SF: 14,400 SF
Building SF: 107,999